THE HALL OF MIRRORS
Mexico City / Santa Maria la Riberia
9. – 30. 11. 2014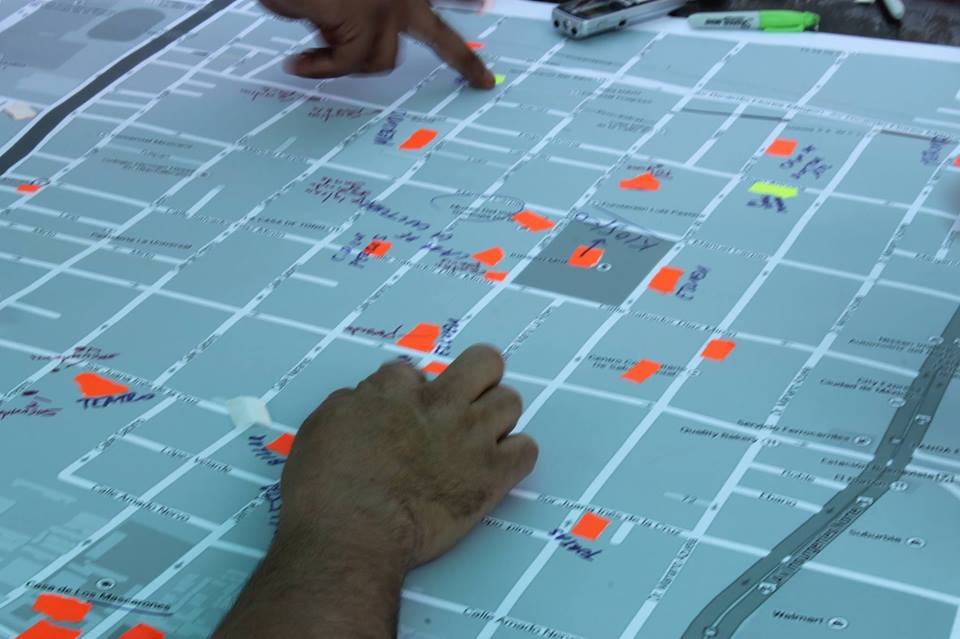 Sodelavci:
Boštjan Bugarič
Mateja Kurir
Down by the water
Community relationships* Workshop * Public Space Installation
November 9. – 30. 2014 / Mexico City / Santa Maria la Riberia
Residence Project at Casa Imelda by KUD C3, Slovenia
WHAT IS THE HALL OF MIRRORS?
The international project Hall of mirrors sets the reflection of urban communities in specific urban acupunctures: from Ljubljana (Slovenia) to Mexico City (Mexico) through the residential program of Casa Imelda by KUD C3 and local partners in November 2014 in the form of an urban laboratory.
The aim of interventions is to enable the inclusion of local users in a more coherent development of the community. Main themes of the project are urban water collection and community coexistence in the megalopolis of Mexico City, that is build on a former lake, but where today some 10 million inhabitants are lacking access to clean water supply.
3 STEPS, 3 GOALS: COMMUNITY, WORKSHOP, PUBLIC SPACE
The first stage of the Hall of mirrors will reflect the relationships inside the community: they will be presented with the inclusion of stories of local inhabitants through the collection of their photos and stories on past eras of the city. The purpose of the gathering of the photos is to (re)search and read the systems of the organization of the community in the past.
The second stage reflects the implemented practice in Ljubljana (district Zalog) into Mexico City (district Santa Maria la Riberia). Among other activities, which will set some basic rules for the appropriation of the inhabitants of their own city, a workshop will be held with students of the University of Iberoamericana who will prepare low tech solutions for using rainwater in everyday life.
The third stage will propose a direct material realization of the aims of the urban acupunctures with the placement of an urban installation on a public space called The Waiting rooms of mirrors and an in-situ solution in Casa Imelda for the urban water collection.