Collective Housing: New Initiatives
Fakulteta za arhitekturo, Mestni muzej Ljubljana, Muzej za arhitekturo in oblikovanje (MAO)
21.-22. 6. 2018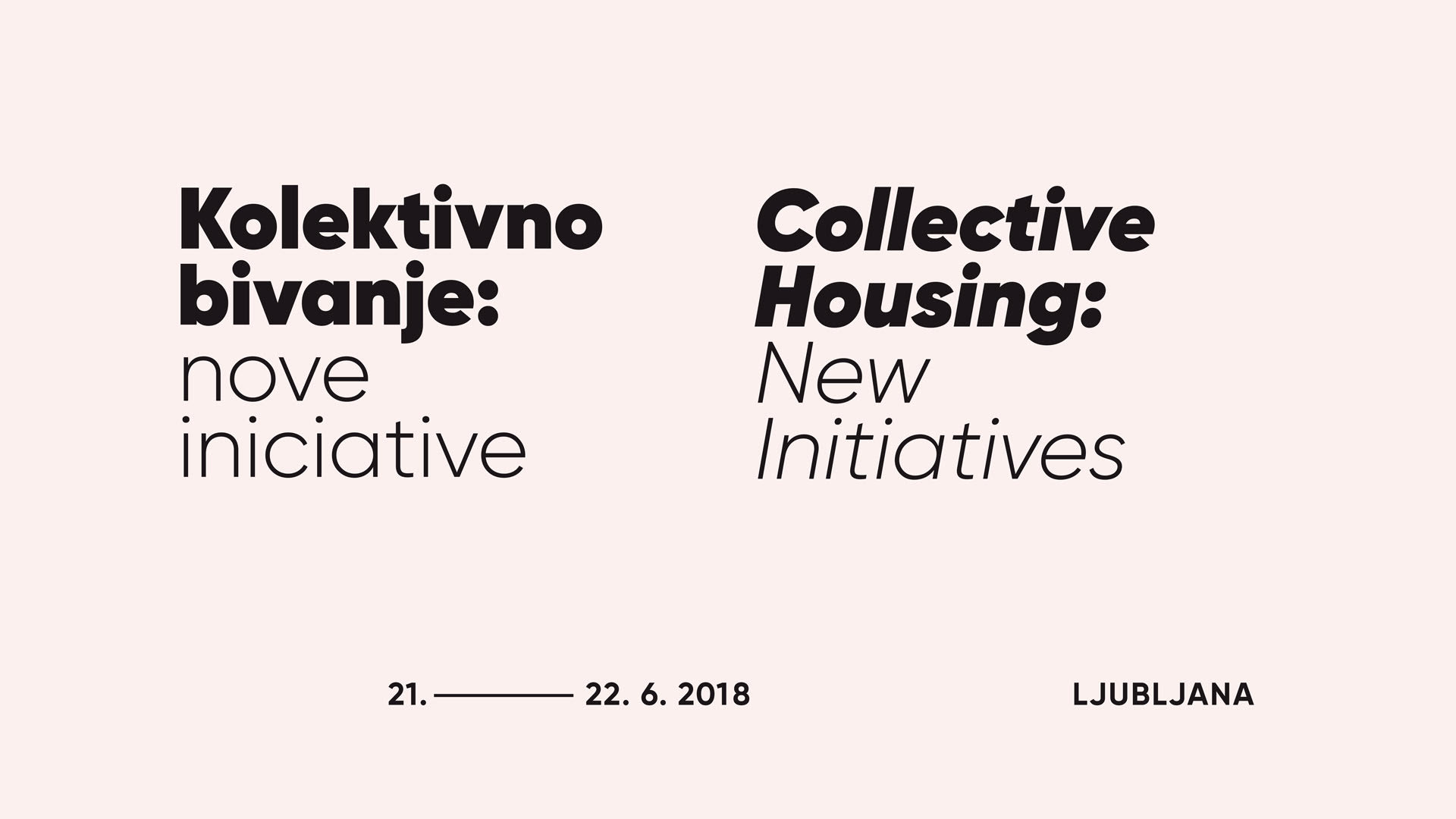 In the 20th century strong traditions of collective housing developed in Germany, France, Austria and Slovenia, each within the specific socio-economic and political circumstances of its respective country. Today many housing estates from this period are facing degradation and neglect. Moreover, in all the countries listed above, housing is becoming a privilege rather than a basic human right. This situation gives rise to questions such as: How to think about collective housing and living today? How to link the past and present experience? and How to develop new models, based on solidarity and affordability of sustainable housing for all? The project Collective Housing: New Initiatives will present, define and disseminate topics of past and contemporary collective living, urban planning and architecture, urban solidarity practices, cooperation in neighbourhood communities as well as progressive sustainable housing policies and housing models.
A two-day event will be held on 21st and 22nd June 2018 at the Faculty of Architecture Ljubljana, City Museum Ljubljana (MGLM) and MAO Ljubljana, focusing on topics related to collective housing. It will include a presentation of student housing projects and the presentation of results of a student study entitled "The Collective Housing in Ljubljana from 1965 to the Present" performed by the design studio of prof. Anja Planišček (Ljubljana). New visions for potential initiatives will be discussed by invited experts: Alessio Rosati (Rome), Davide Marchetti (Rome), Gabu Heindl (Vienna), Florian Köhl (Berlin), Frédéric Druot (Paris), Rémi Buscot (Paris), local stakeholders and initiatives. The purpose of the event is to define the role of different parties involved in the process of creating policies that regulate collective forms of housing such as cooperative and co-housing. We will examine different aspects of the collective and its significance for urban living in the past and today.
The event will be held in the English and Slovenian language. Lectures in Slovenian will take place at the City Museum and will be simultaneously translated into English.
PROGRAMME:
Thursday, 21. 6. 2018: Collaborative Workshop University of Ljubljana, Faculty of Architecture
09:00 – 13:15 Collaborative Workshop
09:00 – 09:15 Welcome speech by their Excellences,
Marion Paradas, Ambassador of France in Slovenia,
and Klaus Riedel, Ambassador of Germany in Slovenia
09:15 – 10:15 The Collective Housing in Ljubljana
from 1965 to the Present – student research
presentations chaired by Anja Planišček (SLO)
10:15 – 12.15 Workshop with critics
12:15 – 13:00 Davide Marchetti, Alessio Rosati: The Contested Myth
13.00 – 13:15 Discussions
13:15 – 15.00 Lunch Break
15:00 – 18:30 Neighbourhood Visit
15:00 – 16:00 Skupaj na ploščad!
At Ruski car with Damjana Zaviršek
16:00 – 16:30 Trip to Fužine
16:30 – 18:00 Fužine Walk with students
Uroš Mikanović, Jan Krek, Petra Benedik
18:00 – 19:00 Relevance of Modernist Neighborhoods
Yesterday – Today – Tomorrow;
public discussion on the Plan Común platform (MAO)
with Urban Jeriha, Martina Malešič,
Manca Starman, Nina Vidič Ivančič, Milan Dinevski.
Friday, 22. 6. 2018: PUBLIC FORUM City Museum Ljubljana
10:00 – 10:15 Introduction (Anja Planišček)
10:30 – 13:00 Collective Spaces of Solidarity
10:30 – 11:15 Gabu Heindl: Red Vienna 1920, Habitat 2020;
From Social-Democracy To Radical Democracy
In Collaborative Housing
11:15 – 11:30 Alenka Korenjak, Prostorož:
Baukultur of public space:
The case of integrated urban renewal
of Savsko naselje
11:30 – 11:45 Janez Ziherl: Urban renovation of the
housing community Planina
11:45 – 12:00 Short Break
12:00 – 12:45 Rémi Buscot, Atelier Architecture Autogérée:
R-Urban: Resilient Agencies, Short Circuits,
and Civic Practices in Metropolitan Suburbs
12:45 – 13:00 Podium discussion
13:00 – 14:30 Lunch Break
13:00 – 18:00 What Is Collective Housing?
Exhibition at the courtyard
of the City Museum Ljubljana
Students: Petra Benedik, Darko Gavrilović,
Petra Iljaž, Monika Kobal, Sara Komac,
Jan Krek, Neža Lazar, Mina Mejač,
Uroš Mikanović, Zala Mrak, Anja Stanić,
Klara Suša Vačovnik, Manca Starman and
Community Kit Video:
Martin Valinger Sluga, Lara Reichmann,
Blaž Šenica, Irid Sevšek, Jan Krek
14:00 – 16:15 Cooperatives Or Collectives
14:00 – 14:45 Florian Köhl:
Quest Trigger Architecture
14:45 – 15:00 Tomaž Krištof , Studio Krištof
15:00 – 15:15 Maša Hawlina, Zadrugator

15:15 – 15:30 Break
15:30 – 16:15 Frédéric Druot:
What and who is already there?
16:15 – 16:30 Discussion
16:30 – 17:00 Coffee Break
17:00 – 18:00 Collective Housing Today;
Potentials And Obstacles
moderated discussionin English
Mojca Zabukovec with Gabu Heindl (AT),
Frédéric Druot (F), Florian Köhl (DE),
Rémi Buscot (F), Alenka Korenjak (SLO),
Tomaž Krištof (SLO), Alessio Rosati (I),
Blaž Habjan (SLO), Maša Hawlina (SLO)
21:00 Neighbourhood Cinema:
Belle et Sébastien
projection of a French film
with Slovenian subtitles
on the facade of the building
Bratovševa ploščad 21;
event organized by Skupaj na ploščad!
with the support of MOL ČS Posavje
Programme in .pdf >
Invitation .pdf >
The project is financed by Fonds culturel franco-allemand and organized in collaboration with Institut français de Slovénie, Goethe-Institut Ljubljana, Austrian Cultural Forum Ljubljana, City Museum Ljubljana, Faculty of Architecture at University of Ljubljana, KUD C3, MAO Ljubljana and Architectuul.
Translation and proofreading: Miloš Bartol
Design: Ajda Schmidt
Editor: Boštjan Bugarič